1. After installing the theme you are able to add a text description to the options. Now the text fields are empty. To change it, please scroll down on the tumblr theme page and fill the:
Title

Description

Blog Username

Blog Username Website

Username Description

First Paragraph

Second Paragraph

Third Paragraph

Footer Description

Disqus
2. The text will be displaying on the different parts of your theme. Here is the example lists how it should looks like: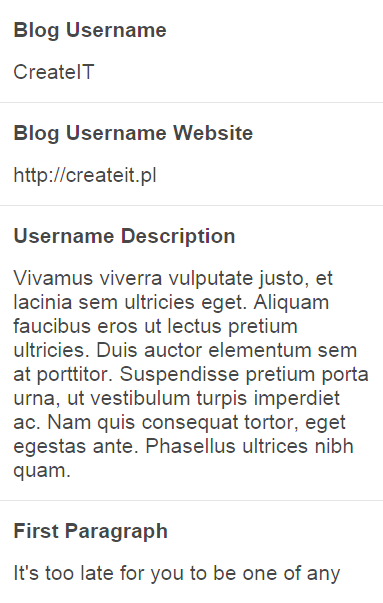 For example: Blog Username – thix text is needed for the name of the author. Thix text will be displayed on the sidebar type of blog.
3. Next things what you have to do is to add a name of the Disqus component. So if you would like to have components like a comments like on your page please fill the Disqus Shortname on the theme options menu. When it's done you should to see the disqus panel in your single post page like below: